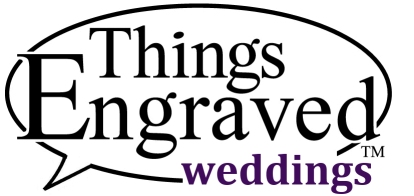 Wedding collections includes things like wedding flutes, guest books, pens, frames, photo albums, cake knives and servers, and keep-sake boxes, all in a matching set. Most items can be personalized with engraving directly onto the pieces with the bride and grooms' names and wedding date. What a great way to remember your special day.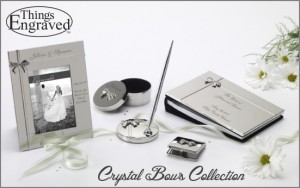 Crystal Bows Collection
A pretty collection that is ideal for weddings, birthday parties, bridal showers, engagement parties and baby showers! Exquisitely crafted of shimmering silver plate embellished with a sparkling crystal bow that adds sparkle to this entire collection.
019171 – Guest Book
019172 – Pen Stand
019578 – Toasting Flutes
019166 — Trinket Box
019168 – Compact
See pricing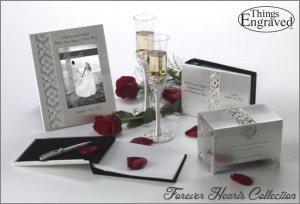 Forever Hearts Collection
A collection that features a panel or grouping of hearts with crystal detailing on each piece – on a brushed silver background.  Very elegant and upscale looking.
019952 Server Set
019955 Flutes
019950 Guest Book
019986 Pen Stand
019953 Musical Jewellery Box
019954 5×7 Frame
See pricing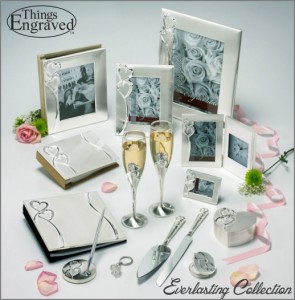 Everlasting Collection
This classic everlasting heart collection will bring true romance to your wedding ceremony and reception.  Sophistication, romance and simplicity are all here in the everlasting heart collection.
015936 – Flute set
015938 – Knife Set
018339 – Guest Book
018338 – Pen Stand
019535 – Place card Holder
019943 – Travel Photo Frame
015937 – 4×6 frame
016705 – 8×10 frame
016706 – Album
015935 – compact
See pricing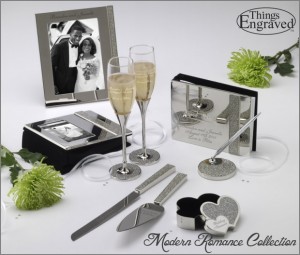 Modern Romance Collection
Make the memories last with our Modern Romance collection. Exquisitely crafted of shimmering silver plate embellished with sparkling crystals that dazzle this entire collection.
018420 – Flutes x/2
018412 – Server Set
018847 – Pen Stand
018422 – Guest Book
018416 – Album
018875 – 5×7 Frame
019536 – Trinket Box
See Pricing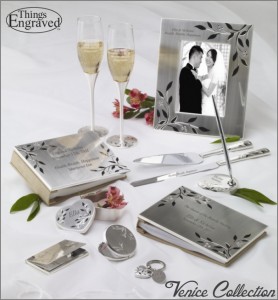 Venice Collection
A touch of whimsy and a dose of sheer elegance meet to create this Venice Collection.  The sweeping pattern of vines and flowers provide a backdrop with each piece accented with sparkling crystals.  With its classic style, this collection feels like a dream come true!
018421 – Flutes x/2
018848 – Pen Stand
018413 – Cake Knife
018414 – 4×6 frame
018515 – 5×7 frame
018417 – Photo Album
017114 – Trinket Box
017018 – Key chain
017112 – Compact
See pricing
Let us help you personalize your wedding collection.
Contact us via email: customerservice@thingsengraved.ca
or toll-free at 1-800-363-5053