CUSTOM WEDDING DESIGNS @ THINGS ENGRAVED
Your wedding is a special day. It's the day you get to come together with the most important people in your life to celebrate your marriage.  It's YOUR day and you're planning it just the way you want. Why not make it special and unique to just you and your partner?
This wedding season, Things Engraved is helping you do just that, and encouraging you to "Uniquify Your Wedding."  Make it just yours; make it unique!  Choose a wedding logo base template and let your creativity match your unique wedding style.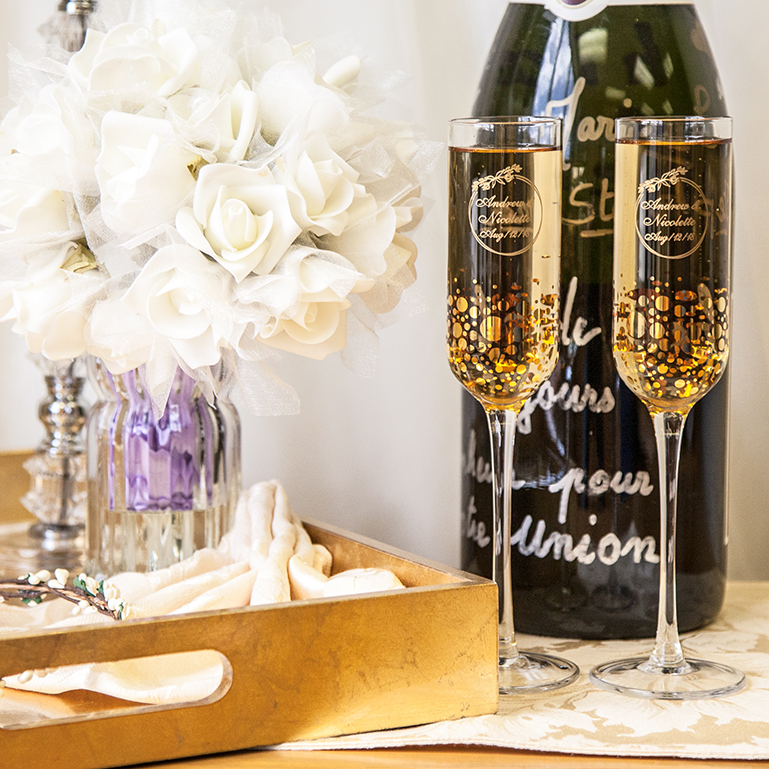 FOLLOWING WEDDING TRENDS
Based on wedding trends, Things Engraved has created 16 design templates to help couples create customized wedding logos that can be engraved on any item.  There are plenty of gift options perfect for your wedding logo: gifts for guests, drink-ware, place cards, glassware, guest books.  Virtually anything can have your custom wedding logo engraved!  Brides and grooms can choose a design from four categories: Modern Elegance (simple and classy), The Classics (traditional and stylistic), Rustic-Chic (whimsical, natural, bo-ho inspired), and Destination Weddings (beachy and travel-themed).  Whatever wedding trend you're following for your "big day" you are sure to find a custom design that suits your theme.
HELP TO CREATE YOUR WEDDING DESIGN
The Unique Gift Experts at the Things Engraved store can take any of the base design templates and create a perfect wedding logo for you using various fonts, sizes, and styles which includes your names, dates, locations, or initials.  In-store staff will assist you in choosing from a multitude of gift options to get the logo engraved on including: wedding party gifts, guest gifts, parent gifts and so much more.  The design templates are just the beginning and together with your Unique Gift Expert your personal logo will come to life and represent your union in the most unique way.
Take your wedding day and make it even more special, by creating a designed memento that you can look back on for years to come. For more information ask a Unique Gift Expert in-store for details or visit http://www.thingsengraved.com.  Things Engraved will help you #UniquifyYourWedding!