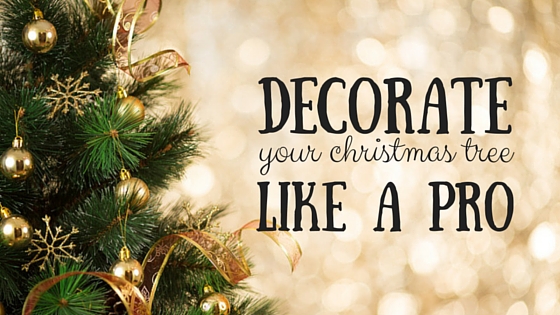 Whether you're using a real Christmas tree or a fake one this year, there is a "professional" way to decorate it. Now, don't get me wrong… there is no "proper" way to decorate your tree, so if you have a preference for how you like to decorate, then by all means, decorate 'til your hearts content!
However, IF you want to decorate your tree LIKE A PRO, here are the steps:
Step 1: Make sure your tree is nice and full. Purchase/cut down a lovely real one, or make sure your fake one is "fluffed". Spend some time separating each bristle on the branches, if they bend.
Step 2: If your tree is not pre-lit, then this is the time to add your lights. Start from top-to bottom, making sure your plug is accessible. Make sure to tuck the cords in when you add a new strand of lights.
Step 3: If you have any garland, now is the time to add it. I prefer not to add garland or tinsel on my trees, but this is a personal preference.
Step 4: Start with your biggest decorations, your "core-elements". A good idea would be to add large ribbon bows, feather-like sprigs, or big flowers first. If you have some different types of sprigs that lay flat on the branches, you can group a few coordinating ones together to make them fuller. You'll want to start on the top or bottom again, adding each one to your tree in a zig zag pattern, so they have more equal spacing between one another.
Step 5: Now it's time to add your accent ornaments. Continue adding these in a zig-zag pattern, from top to bottom.
Step 6: Add your finishing touches. Whether it be a star, an angel, or whatever else you like at the top of your tree – put it up and wrap a skirt around the base.
Additional Tips:
Use coordinating colours for your tree, without using too many different styles of decorations. Perhaps 12 is a good number for the amount of different ornament styles.
You can add some keepsake or personal ornaments, but if you want to keep a cohesive look, you can decorate a smaller tree for these ones.
Before you hang your lights, plug them in to make sure they are all working. As you put them on the tree, keeping them lit will also help you hang them evenly.
You don't have to use an actual tree skirt that is store-bought. You can use large rolls sheer ribbon…faux fur throws…or even burlap! Get creative with this part.
Add a light-timer or even a light-dimmer to your lights to control the intensity of them throughout the day.
From your Things Engraved Social Team,