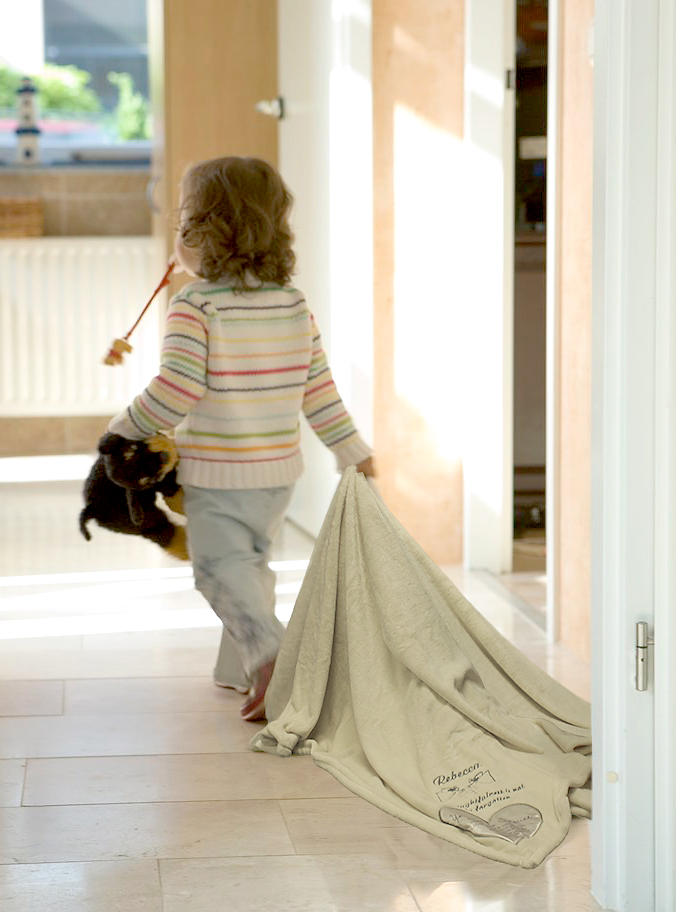 Close your eyes.  Ok, well close them metaphorically because otherwise you couldn't keep reading.  Can you feel it?
Ever since Linus exclaimed "My blanket…I can't be without it!" (and probably even before that), the blanket has been a source of inexplicable comfort.  We reach for them during cold nights (or scary movies), we swaddle little ones as they sleep and, if we're a toddler, we cling to them and drag them everywhere we go out of security, their surfaces becoming dirty and worn but somehow never diminishing in value.
We received an email from a customer not so long ago who had purchased one of our personalized Royal Plush blankets for her daughter and it was too cute not to share.
"I wanted to take a minute to let you know how much my daughter loved her blanket.  From the second she unwrapped it we couldn't get it out of her hands.  She is now insisting that it goes everywhere with her and proudly states "Becca's blanket!" to anyone who will listen.  I know eventually I'll have to sneak it away from her to wash it, but for the time being I'm perfectly happy watching her drag it through the house or curl up with it in bed.  So thank you – you've made a little girl very happy!"
I'm not going lie to you…I'm curled up in one of these blankets as I write this, and honestly I could stay like this all day.  What is it about a blanket that makes everything seem OK?  I can't say that I know for sure…so I should probably keep snuggling in it until I figure it out.
We here at Things Engraved are happy to offer warmth and snuggles to our customers all winter long.