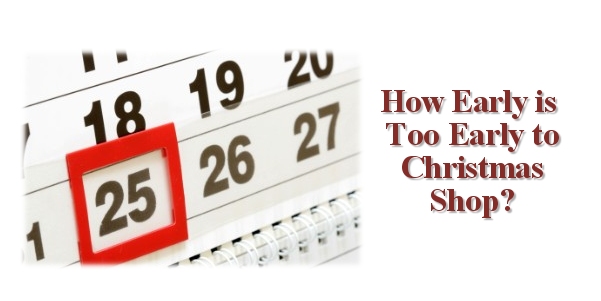 Do you find that stores and malls are ready for Christmas well before YOU are ready?  How soon is too early to start Christmas shopping?  Here are some reason why starting early might be a good idea:
Wait too long and it might be gone!
If you have a specific gift in mind you might want to shop early if there's a chance it might sell out during the busy shopping season.
Better deals?
Some might argue that there are better deals to be had far away from Christmas so some people start early hoping to catch "fall savings" deals before the Christmas season is truly upon us.
Beat the mad rush!
Hate crowds? If so, getting your Christmas shopping done early is a good idea because as we all know, the closer we get to December 25th, the busier stores and malls become.
Budgeting
It may be better to start your Christmas shopping early, spread over a number of months, to help with budgeting.  If your Christmas spending is all spent in one month (December) it can be hard to play 'catch-up' on credit card balances in the new year. Starting months in advance means you can budget a smaller amount over a longer period of time which may lessen the stress of the January credit card bill.
Buying Online?
If you're doing any shopping online, especially from overseas, it's always a good idea to order early to ensure your parcel reaches you well before Christmas.
Christmas is a BUSY time of year for many retailers (us included) so having stores ready for the Christmas rush early is one way to limit the busyness of this time of year.
When do you normally start your Christmas shopping?  How early is too early?  Share your ideas below or on our Facebook page.  We look forward to hearing your ideas about early holiday shopping.