Yes, we're an engraving company and no, you cannot engrave fabric.  But we DO embroider blankets and throws.  In fact, between our two main styles (white basket heart weave and antique ivory throw) we embroider over 2,600 blankets per year!  And that doesn't even include baby blankets, plush-animals, towels, nor Christmas stocking embroidery!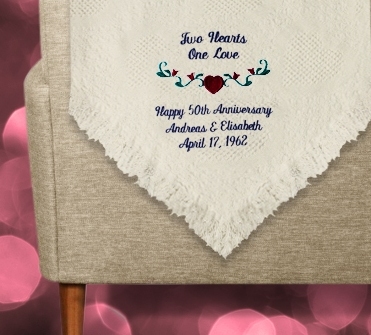 All of our embroidery is done at our head office in Kitchener Ontario.  So if you order a throw in one of our stores in BC or Quebec, your embroidery is still being done in Ontario and shipped to that store.  This is why orders with embroidery sometimes take 1-2 weeks (when ordered in a store).  For online embroidery orders, we get two days to complete your embroidery (+ add shipping time) so the time can be reduced when ordering embroidered gifts online.  But embroidery is more customizable in-store than it is online. More about the below.
We have over 40 base embroidery designs but by changing the text and thread colours, your custom options are virtually endless!  Online we've created over 60 design templates, from our most popular designs, for you to choose from.  The main themes for these templates includes: weddings, wedding party, babies, baptism/christening, anniversaries, birthdays, Christmas, retirement, house-warming, mother's/father's day, retirement, graduation, and thank you gifts.


So now, the HOW-TO:  Choose either an ivory/antique or white throw from here.  Select your design template based on the occasion you are celebrating.  Then you will be asked to put in your customization.  In the example below I have chosen to personalize a throw for an upcoming wedding.  Here you can see 3 fields that need your input.  First you will choose your name for the left heart, the right heart, and the wedding date.  The rest of the text shown on the right ("Two Hearts Joined in Love") will automatically be embroidered.  You'll notice that personalization is FREE on these two throws.  The fields also show you the maximum characters we can fit for each case.  Once you have your custom text entered, you click on "Add to Cart" button on the right.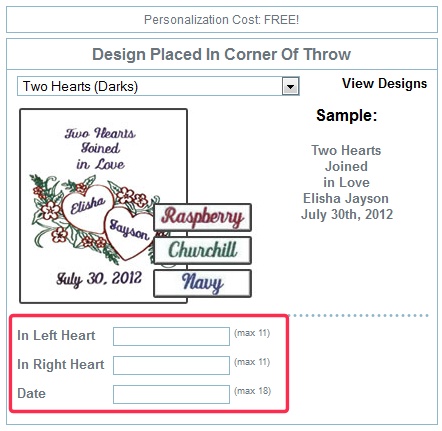 Some of the templates are more flexible with less text so you can customize them more to suit your needs.  The Canadian geese template includes 3 lines of text and you can have them say anything you like.  In the example below I have selected the "Flower Scroll – Maid of Honour" in Mixed colours.  However, because there is no extra text shown in the sample, besides the fields I can customize, I am able to turn this template into a Happy Birthday blanket for Melanie.  "Maid of Honour" will not be sewn but Happy 30th will be.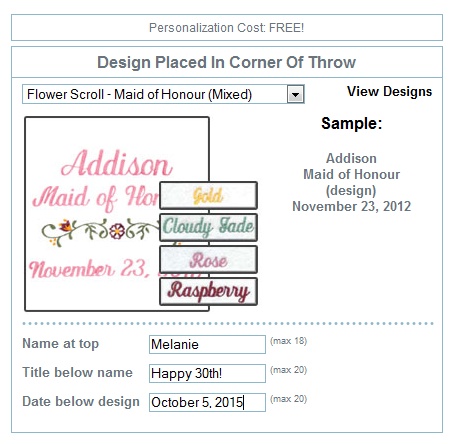 Once you get the throw added to your cart you can confirm you've typed in the text correctly and head to the check-out or add more items to you cart.  Even further customization of these templates is available in-store but with endless possibilities, we had to choose a set number of templates for online ordering.
We trust you'll be able to find a design template that suits your needs in a colour palette you like.  I personally love the dark palette (navy, chuchill and raspberry); they are so rich-looking on either the white or antique throw.  As far as the designs go, I like the "Heart Scroll" and "Rose Wreath" and "Sunflower" best.  Our best selling design is the "Two Hearts" design by far.
With so many options available, custom embroidery on a throw or blanket, or stuffie, is an ideal gift for many types of occasions; click here to see all of our embroidery gifts.  These are snuggly, thoughtful, and unique gifts for you to consider.
From your Things Engraved Social Team,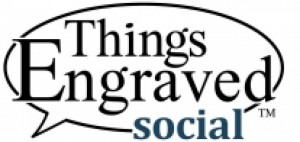 ——————————————————————————————————————————————
Now that you have the know-how on how-to add custom embroidery to out gifts, we invite you to try it out here.