Think about the qualities that you love about your significant other. Maybe they love the outdoors just as much as you do, which creates a way for you to spend time together. Maybe they are the classic romantic type that makes you swoon. Whatever it is that makes the two of you "click", you're going to want your special ceremony and celebration to reflect this!
Choosing a wedding theme and colour scheme can seem daunting at first. What's important is following your personal styles and picking something that resonates with you — the rest will follow. Love nature and the look of simple, natural details? Aim for a rustic glam theme and more earthy tones. Classic and a hopeless romantic, with a taste for geometric touches? Aim for an elegantly modern style with pastel colours to pair bold with soft.
To make it even simpler for you, here's a list of tips on how to choose the colour scheme for your wedding:
Match the setting to the colours OR the colours to the setting! Think about your preferred colour scheme, and then choose a venue that you are certain will match those colours. It helps to choose somewhere that is a "blank slate" like a converted barn or loft-style location. If your dream venue takes priority, think about colours that will compliment those surroundings. For example, if your venue has a lot of white walls and decor, lean towards more colour in your decorations to balance it out.
Think about your decorating priorities. If you have a specific type of flower you dream of having at your wedding (like gorgeous bundles of purple lilacs), you're going to want to adapt your colour scheme to match and use that essential detail as a starting point. The same goes if you have a specific coloured family heirloom accessory or decor. It's much harder to try and fit things in afterwards if they don't match the colours or style of your wedding!
Consider the season. Certain tones work well for different times of year, like jewel tones for fall and softer blush tones for spring. Don't let this dissuade you from you preferred colour theme, however! Bring in seasonal textures and use the colours you like, adapt them to the season with adjusted tones as you wish.
Create a vibe. Think about the tone you want to set for your venue, whether you want a dramatic feel (use deeper and darker tones) or a more gentle atmosphere (use softer hues).
Look to your favourites. What clothes, colours, and style of fashion do you typically choose? You can take a peek into your closet and around your home for some inspiration and a better idea of your taste.
Take a peek at the colour wheel. There's no strict rules here, but it can give you a better idea of colour pairings. A rule of thumb: colours opposite each other on the wheel are complimentary (they pair cool and warm, such as royal blue and golden yellow) and pairs right next to each other are similar (they share a primary colour, such as purple and pink). Try pairing a bright tone with a more neutral one, like turquoise and soft grey.
Don't overthink your colour scheme! Use it more as something to guide you, rather than a strict rule. Don't feel pressured to have the "perfect" colours. Go with what suits your style and the mood you want to set, and the right colours will follow!
Try to #uniquifyyourwedding not only with the colours and style, but with our custom wedding logos, like this one: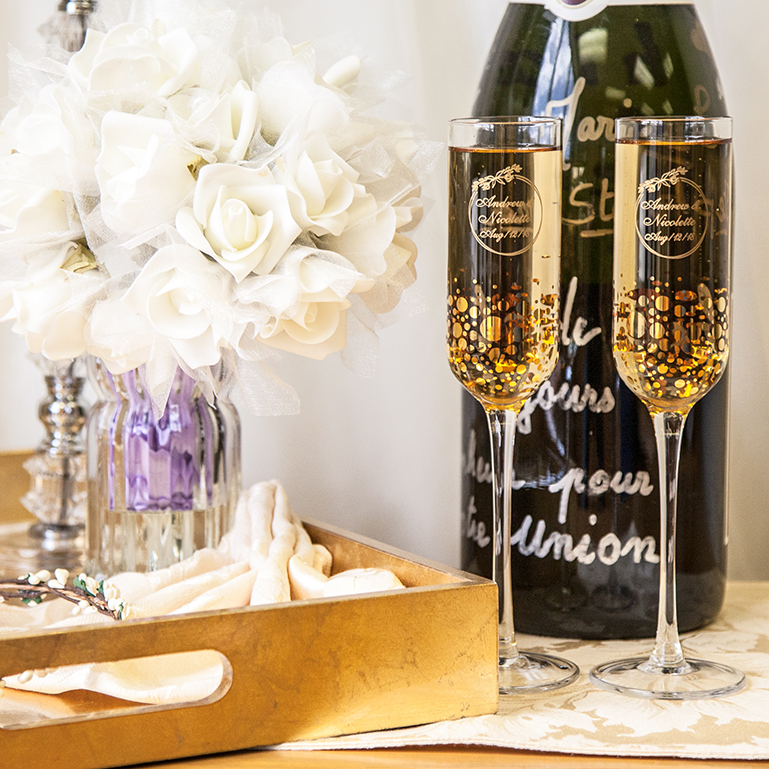 From Your Things Engraved Social Team
——————————————————————————————————————————————