Jewellery tops the list of desired Valentine's Day presents. Each year leading up to February 14th, jewellery manufacturers overload the airwaves and department store advertisements with the must-have jewellery trends of the season.
Many people welcome the gift of jewellery, but prefer jewellery that's unique. Jewellery presents should be as unique as their recipient. But being personal, unique and ensuring your jewellery piece will be worn takes a little effort. Consider these pointers:
* Think beyond the diamond – Many people feel pressured to purchase diamond jewellery. The fact is, not everyone feels compelled to wear diamonds. It may be more meaningful if you gift them with their birthstone, a favorite gem or even a simple piece of gold. It all depends on their personality. Notice what type of jewellery they tend to wear and their colour preferences. Figure out if they have their heart set on a particular piece.
* Buck the trends – Avoid the marketed gift of the year. While it may work for footwear, jewellery, like fragrances, is more personal. A one-style-fits-all gift simply may not work here. Again, think about their style and personality and use that as a guide for jewellery purchases.
* New is not necessarily better – Some people adore antique pieces. A passed-down pendant that your grandmother once wore may offer more implied meaning than that new necklace fresh off of the display case.
* Personalize your pieces – Think about pieces that have unique meaning. Do they collect something in particular? How about a charm bracelet that can be augmented each year? Even having a pendant engraved with a touching sentiment can be the way to ensure them gift is one-of-a-kind (more on THIS below).
* Go with what works – If they love to wear a stud earring regularly, gift them with a new pair. Now is not the time to try out what you believe to be new and exciting. You can never have enough of a favourite type of jewellery.
When it comes to personalizing your gift of jewellery, there is no place with more expertise than Things Engraved. We know our stuff! And we have engraved some very complicated pieces. You can bring in your item for a consultation to one of our over 100 stores across Canada. They can help you determine what is possible!
AND, we also happen to carry our own very romantic gifts. You can purchase something new from us, and adding engraving will make it a one of a kind gift that only your special someone will have this Valentine's Day. Here are just a few ideas for you to consider:
From your Things Engraved Social Team,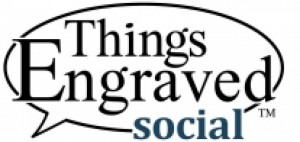 ——————————————————————————————————————————————
To see more engraveable jewellery options, visit our website or find it in a store near you.
Save