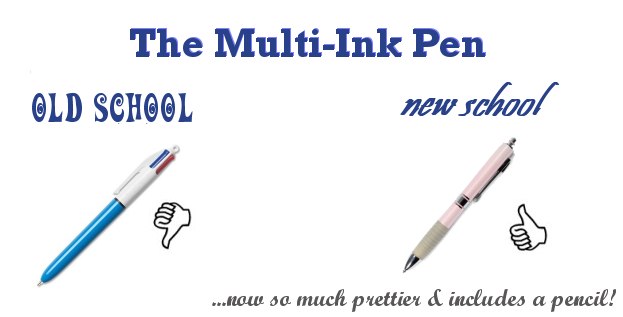 Remember back when multi-function pens included four different colours of ink inside the sky blue plastic pen?  Remember when we thought it was cool to write in green ink on tests in school?  Well that pen is now way old school.  There is a new multi-function pen in town and it's prettier and awesomer (is that even a word?).  Our Franklin Covey "Hinsdale" delivers ultra-function with a simple twist.  This everything-you-need-in-one-design lets you choose from red, blue or black ballpoint pen colours, or with another twist it's a 0.5mm pencil!  Three pens and a pencil all inside a fancy pink body with a cushion grip for comfortable writing!  Our new school multi-function pen comes in a grey gift box and is ready to be engraved.  Oh yes, and the best part is the price point. At $20 this makes the perfect gift for pretty much any woman in your life for any occasion.   Old school function in a trendy new school way!
View more information about this product on our website by clicking here.

Tell us if you remember these old school multi-ink pens from your school days?  Join the conversation on our Facebook page or post below.