The secret to staying young is to live honestly, eat slowly & lie about your age. ~ Lucille Ball
Birthdays are a very special occasion in a woman's life. Whether, like me, she is celebrating the same birthday for the last 19 years, OR she is happy to be turning whatever age is her truth, she will definitely appreciate a personal gift to celebrate her birthday.
We promise, you will NOT get into trouble giving pretty much any of these gifts (you know, like that time you got her a gift of tickets to see YOUR favourite rock band, or when you upgraded her crock pot to a fancier model with more features on it…yeah, let's not do THAT again!)
You can be sure that a gift from the heart will always be appreciated, even if she IS turning 25…again…
Here are 6 great ideas to get you thinking. Add a personal touch with engraving and you will be set to give the BEST birthday gift ever!! Be sure to check out our website for many more gift ideas.
If things get better with age, then you're approaching magnificent. ~ Nicole Beale
From your Things Engraved Social Team,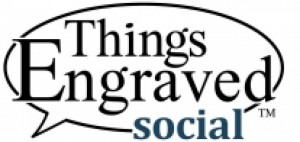 ——————————————————————————————————————————————
To purchase a birthday gift for a special woman, visit our website or find the perfect gift in a store near you.