Do you think that all New Year's resolutions are a bit fishy? Perhaps you're suspicious of the fads that appear each January, offering us the latest in fitness and diet trends that promise a slimmer you in the year to come. This year, instead of focusing on weight loss, why not resolve to try a tried and true resolution that will mean truly better overall health for you and your family — eating well with foods like Omega-3 rich Atlantic salmon?
2012 should be the year for paying more attention to overall health and well-being. Atlantic salmon is one of the most healthy and nutritious food choices available and is a great addition to any New Year's resolution that is aimed at living healthier. It's an excellent source of protein and loaded with vitamins and minerals, and is also one of the best sources of natural Omega-3 fatty acids.
Omega-3 polyunsaturated fats are often known as "the good fats" and are considered essential because we need them to live a healthy life but we have to get them from external sources like seafood. The American Heart Association recommends that people include at least two servings of fish, particularly fatty fish such as Atlantic salmon, per week in their diets in part because of numerous health benefits associated with Omega-3s.
As a great source of Omega-3 DHA and EPA essential fatty acids, Atlantic salmon helps the body's heart health — helping prevent heart disease and stroke, reducing the risk of cancer, lowering cholesterol; and may assist in brain health — maintaining healthy brain activity and reducing the chance of developing Alzheimer's disease in adults, and enhancing brain development and promoting learning in children. Studies have also shown Omega-3s may prevent depression, schizophrenia and memory loss, along with just generally increasing our daily energy levels and acting as an anti-inflammatory.
Atlantic salmon leads the way, surpassing all other seafood, including wild salmon, in Omega-3 DHA and EPA amounts per serving. Not only that, but it's an excellent source of protein and lower than beef or chicken in saturated fats.
It's easy to start adding more Atlantic salmon to your diet and you can start out simply with basic recipes like True North's Salmon with Soy-Honey and Wasabi Sauce. Salmon isn't complicated to cook, and when you combine the great taste with the knowledge that it's so good for you, you'll find yourself preparing it more often.
A great way to work salmon in to your new year's meal plan is to start slowly by swapping out one of your guilty pleasure meals — something you know isn't very good for you — with a quick delicious meal of Atlantic salmon from the Gulf of Maine, where the salmon is the freshest. You'll feel better about the choice you've made and your body and mind will thank you.

Salmon with Soy-Honey and Wasabi Sauce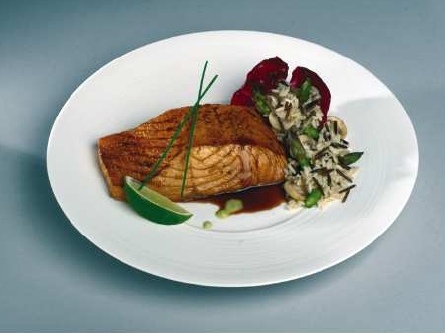 4 Servings
Ingredients
4 5-6 oz (150-180 g) Salmon Portions
For salmon
1/2 cup (125 ml) mirin (Japanese sweet rice wine)
2 tablespoons (30 ml) soy sauce
1/4 cup (65 ml) rice vinegar
1 tablespoon (15 ml) finely grated, peeled fresh ginger
For sauce
2 tablespoons (30 ml) soy sauce
1/4 cup (65 ml) honey
1 tablespoons (15 ml) fresh lime juice
2 teaspoons (10 ml) wasabi powder
1 tablespoons (15 ml) water
Directions
1. Stir together mirin, soy sauce, vinegar, and ginger in a shallow dish. Add fish and marinate, covered, at room temperature for 10 minutes.
2. Boil soy sauce, honey, and lime juice in a small saucepan, stirring frequently, until thickened, about 4 minutes.
3. Stir together wasabi powder and water in a small bowl.
4. Preheat broiler, and cook fish on oiled rack, 5 to 7 inches from heat, until fish is just cooked through, about 6 minutes. Remove from heat and drizzle with sauces.
5. Serve with wild rice and steamed asparagus.
Whether grilled, baked or poached, Atlantic salmon provides some of the essential nutrients and fatty acids needed for good health — and it tastes delicious too.
Other Healthy eating tips
* Bake, broil or grill your salmon instead of pan-frying it.
* Limit the amount of oil you use.
* Flavour your salmon with seasonings like dill, lemon or pepper instead of butter or oil.
* If you do use oil, make it olive oil. Research suggests that, like salmon, this monounsaturated fat lowers the risk of heart disease.
* Pair your salmon with a healthy side dish like steamed broccoli, carrots or vegetable stir-fry. Not only will these colorful veggies look good, they're good for you too