Love will find a way through paths where wolves fear to prey. – Lord Byron
I really like this quote because while many think of Valentine's Day as a 'romantic' love occasion, LOVE is so much more than that. Yes, we do love our romantic partners, but also our family, friends, customers, communities and more. But love is hard sometimes – whether it is because of distance, misunderstandings, or life's stresses and challenges (the 'wolves'), loving someone is not always easy.
Which makes it even MORE important to express and celebrate love, and let love inspire us all to make a difference, both personally and for others.
And that is what we want to do this year for Valentine's Day.
Not only do we want to help YOU to give a beautiful, personalized keepsake gift to someone special for a celebration of love, but we also want to help solve one of the biggest  'wolves' that threaten our loved ones – heart disease and stroke.
Until February 14th, we are asking our customers to partner with us to help raise money in support of The Heart & Stroke Foundation by engraving a filled heart onto their gifts. We will donate 50% of the engraving cost of the heart! Our goal is to raise $10,000 by February 14!
Not only can you show your heart to your loved one, but together we can show our heart to the world and to those impacted by heart disease and stroke.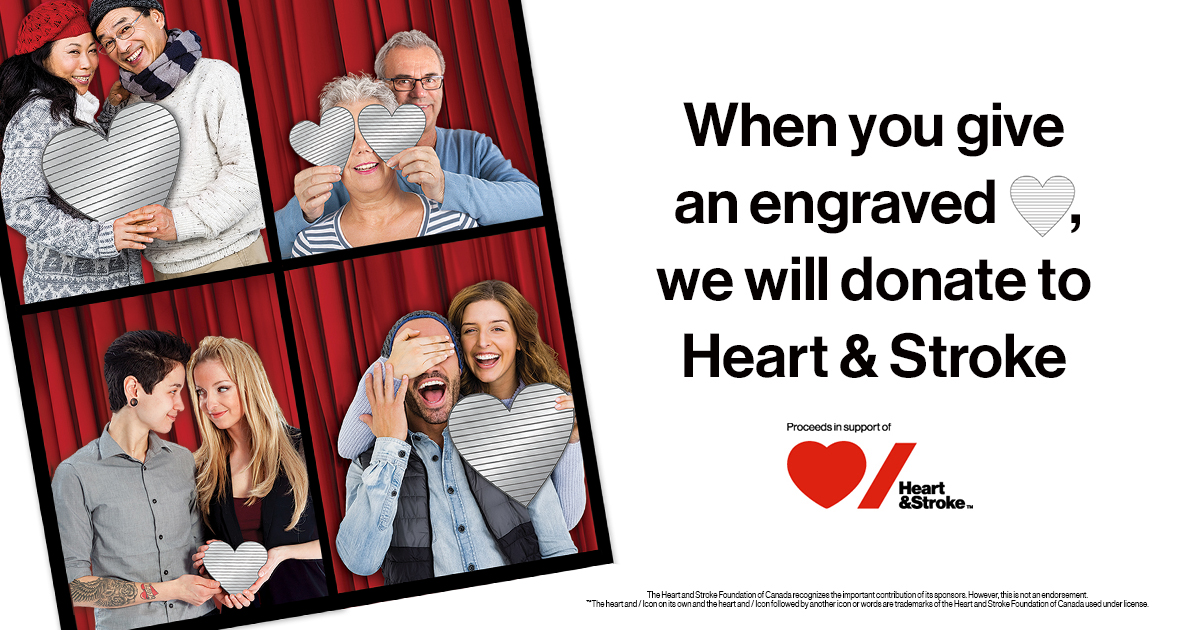 When you visit one of our stores to purchase your gift, you can add an engraved filled heart to almost any gift. If you prefer to shop online, we have a select group of specially chosen gifts that can be engraved with a filled heart and a message of love.
Here are just a few of the gift options you can engrave for Heart & Stroke during this fundraiser to get you inspired.
To engrave a gift for Valentine's Day and Heart Month (or for any special person or occasion), you can find a store near you by clicking HERE. Together we can meet our goal of raising $10,000!
"I know of only one duty, and that is to love." Albert Camus