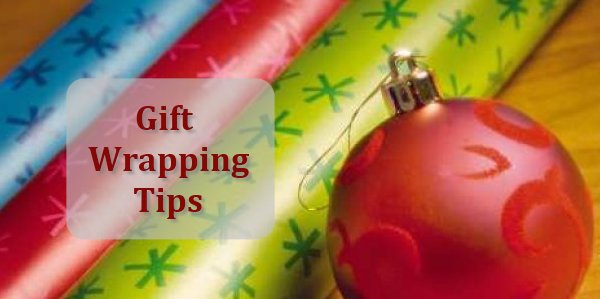 The holidays are here and that means shoppers have started to stockpile gifts for those they love.  Once the shopping rush is over, the time to wrap all of those great finds and treasures has come.  Although some people are gift-wrap gurus, there are many others who feel that their wrapping skills are lacking. Regardless, anyone can create delightful wrapped gifts with a little know-how.
Prepare
The first step to wrapping is to have all of the supplies in one place. There are some people who have actually dedicated small rooms as gift-wrap stations. While you don't have to go this far, find a large table and keep your tape, tags, paper, ribbon, scissor, pen, and other accessories nearby.
Also, sort out the gifts according to recipient and have any gift receipts handy to wrap up with the gift.  I wrote a blog post on organizing gift receipts here.
Find a good time
Wrap at a time when there are no distractions and you can devote your attention to the task at hand, like after children have gone to bed or during the day when no one is home.
Paper or Bags?
When purchasing wrapping paper, it may be tempting to skimp on the quality of the paper to save money. However, a thicker, higher quality paper will make wrapping go more smoothly. That's because it will be less likely to tear on boxes or when you're rolling out and cutting it. Thicker paper means you'll also be able to achieve more intricate folds and better creasing around boxes. It also may be more forgivable around oddly shaped items.
Gift bags are the go-to wrapping medium when you're short on time or have items that are not easily wrapped with paper. Because they come in a variety of sizes — and even giant plastic bags to contain large gifts — they are often more convenient. Nothing beats a nicely wrapped present though, if you ask me.
Gift Tags – Reuse
It is a tradition in our house to save Christmas cards we receive each year and cut them apart for next year's gift tags. Christmas cards already have a Christmas or winter theme and are often of good quality with nice images on them.  Why not re-use them? Cut out the images or the text from your Christmas cards from year to year and save yourself from having to buy gift tags.
Other Tips
* Buy neutral-patterned wrapping paper that coordinates with other papers. This way if you run out of one type of paper you can stagger other pieces and make a collage of papers so there's no waste.
* Use ribbon and bows to dress up a gift and direct the eye away from any imperfections.
* Keep a stack of paper scraps and use it instead of tissue paper to fill in gift bags.
* Keep scissors sharp for clean cuts.
* Pack smaller items or oddly shaped things into a different container that is easier to wrap.
* Roll up clothing and place into a paper towel tube to turn the wrapping into a candy cane shaped gift.  I used a Pringle potato chip container last night to wrap a t-shirt in; it will be fun to see the recipient's face when he think he got Pringles for Christmas!
Practice often makes perfect when it comes to wrapping gifts. Having the right paper, a few decorative supplies and some patience can ensure that gifts look festive this year.
Good luck in getting those gifts wrapped and under the tree in time!