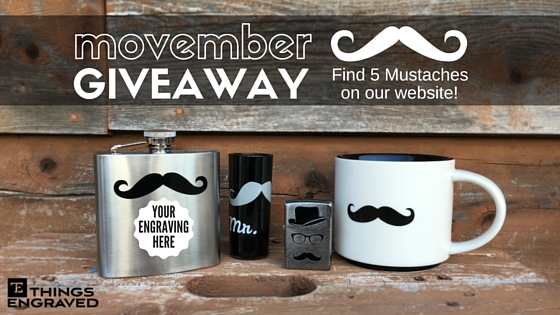 To raise money and awareness for Prostate Cancer, men all around the world are growing their mustaches and facial hair. It's become a contest for many to grow the most epic mustache, but for those who can't grow the best one, at least they tried!
This year, in honour of Movember, we are giving away an awesome prize pack filled with mustache swag…(a flask, a shot glass, a zippo, and a mug!) keep reading to find out how you can win it!
5 Fun Facts about Mustaches
Mustache hair grows faster than any other hair on the body. It grows faster in the spring and summer than in the fall and winter.
Since 1990 in Germany, there has been a World Beard and Mustache Championship competition attracting entrants from all over the world.
In a deck of cards, the King of Hearts is the only king not to have a mustache.
The Guinness Book of World Records has a listing from 1993 for a man whose mustache measured 133.4 inches long… Wow! I bet his wife wasn't very happy (if he even had one).
In 1967, The Beatles gave away cardboard mustaches with their album Sgt. Pepper's Lonely Hearts Club Band. That would have been pretty cool!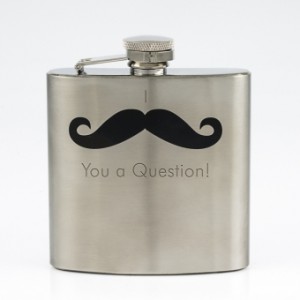 Mustache Flask Engraving Ideas:
"I (mustache) you a question, but I'll shave it for later"
"My stache"
"My (mustache) brings all the girls to the yard"
"Keep calm and grow on"
"Don't trash the stache"
"The (mustache) made me do it"
Win a Mustache Prize Pack!
Find 5 "mustached" gifts on our website for your chance to win!
Contest ends on November 25th.
a Rafflecopter giveaway
Retweet on Twitter daily for extra contest entries. The winner will be randomly selected and contacted by email. Good luck and Happy Movember!