Going to prom is a HUGE part of the high school experience, and over the past few years, the ways to ask someone to the prom have been elevated with the promposal trend.  Have you heard of this yet?
The promposal can be simple, elaborate, and everything in between. It's a chance to be creative, and to make prom an extra special memory for you both. Looking for some ideas? Pinterest is a treasure trove of promposal ideas.
Lots of promposals are of the simple and less flashy variety. Not everyone wants to make a public declaration of a desire to wear fancy clothes, corsages and dressy shoes that will inevitably be kicked off by 10pm. A simple gesture for a promposal can be just as memorable and sweet.
Recently, someone ordered this bracelet through our online store and we just loved it! What a great way to ask someone to attend prom, and give them a gift that will keep the memory alive for them every time they wear it.
Consider an engraved gift with YOUR promoposal. Pretty much any of our stunning gifts could work.  Create a keepsake, and you never know…maybe even a family heirloom!
From your Things Engraved Social Team,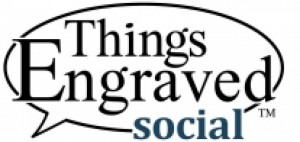 ——————————————————————————————————————————————
Looking for other ideas to use for your promposal? We have lots of engrave-able items that would be perfect!
To purchase, visit our website or find it in a store near you.