This one is for the Braedyns, Cyndees, Izobels and Mykels. You know who you are. You have a name that SOUNDS like it should be easy to spell, but your creative parents decided to be all artsy and take your "Jason" or "Madison" and turn them into the much more fancy "Jayceson" and "Maddisyn".
They meant well, really they did.
As I am sure you already know, your name has never EVER turned up on the side of a coke can. Or on notebook covers, back to school pencils, or door tags that say "David's Room." No where to be seen!
Now, my name is Julie, not "Juley", "Jewleigh" or "Julee". I have never had this problem. My name was EVERYWHERE on stuff, especially in the 1980's when it seemed like there were a TON of "Julies" around. This problem has never really cross my path.
Recently, someone in our office hosted a birthday party for a friend and when she was telling us about the fun time everyone had, she said that she had taken some of our newest Christmas ornaments and had each person's name engraved on one, as a party favour for each guest. It was exceptionally well received by one woman in attendance, who exclaimed "My name is NEVER on any of these things! THANK YOU!!!!!"
Alyshia, another member of our Things Engraved staff, said she FEELS her pain and had the same experience, with her name being spelled differently than the more traditional version, being "Alicia".
We at Things Engraved are all FOR creativity, so we say, embrace your unique spelling, and shout it out to the world how much you love being uncommon. AND just get your uniqueness engraved onto whatever you want! Whether it be something our store, or something you already have (we offer carry-in engraving as well), you can have YOUR name, spelled YOUR way, on just about anything you wish (as long as we can fit it into the engraver!)
If you are already a "Sue", "John", "Sarah" or "Andrew", then I am sure there is a person in your life that will be THRILLED to receive a gift with their unique name engraved right there for all the world to see! We can help you choose exactly the right thing. And we will be happy to spell their names however you wish.
Here are a few great gifts, just waiting for a unique name!
From your Things Engraved Social Team,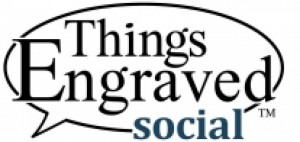 ——————————————————————————————————————————————
We have so many ways that you can give someone with a unique name! No matter their age, they will be thrilled to receive a gift that celebrates their wonderful name.
To purchase a personalized gift, visit our website or find it in a store near you.