I read that the average bride spends 250  hours organizing her wedding – that's equal to 6 full-time working weeks. Planning a wedding is like a full-time job! For some people it IS their job. Are you leaving your wedding planning to a professional planner or co-ordinator?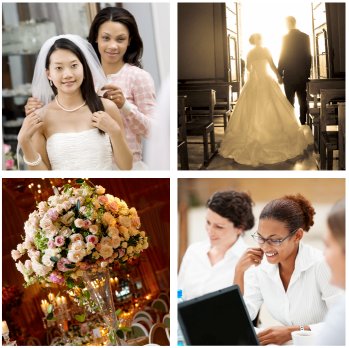 Are you:
Overwhelmed?  Stressed?
Confused?
Working full time?
Short engagement?
Way behind on your checklist and schedule?
Can't even envision your wedding?
Then you may need to consider a wedding planner!
Oh but the expense!
A good point was made; while you have to pay wedding planners to do the planning of your big event, which costs money, it could actually save you money because they're experts with years (hopefully) of experience who probably work more quickly than the average bride/groom combo. They have contacts in the wedding industry that could actually save you money and it will certainly save you time.  So maybe hiring a wedding planner isn't such a bad idea.
Certified Weddings Planners of Canada
Canada even has an association of wedding co-ordinators.  Did you know?  It seems people can take courses and become "certified" to plan your big day.  They even have a code of ethics and everything. There is even a video from CTV http://watch.ctv.ca/news/top-picks/wedding-planner-woes/#clip202999 that goes into some detail about the Wedding Planners Institute of Canada.
Are you hiring a wedding planner? Why or why not? Tell us below or on our facebook page.