Mother's Day is right around the corner, and this is the PERFECT time to plan out how you will spoil your mom and show her how much you care.
But, what to get her? What does she really want this year?
I can tell you from personal experience, moms LOVE gifts that 1. show that you have been paying attention to the things she loves in her life, and 2. show that you are willing to do something to make her life better/easier/relaxed/more fun. That's it. Show you care, pay attention to what she likes and make her feel pampered.
I have always told my own kids that what I want most for Mother's Day (besides clean bedrooms that I didn't have to nag anyone to make happen) is something personal. Something they make themselves or have made for me. I also would like them to DO something for me. My ideal Mother's Day goes something like this:
Night before – Turn off any and all alarms. I am sleeping in.
Wake up in the morning whenever I feel like waking up. Usually at least after 10am.
Breakfast in bed OR on the deck, weather permitting. I usually buy my own breakfast stuff the day before (because I am picky about my fruit). I just want them to assemble it and serve it to me.
Gifts from the heart – Special stuff they make or have made for me (definitely nothing practical. If I NEED it, I will get it another day).
Chores – Do an extra one, just for me. Every year my son cleans my car for me on Mother's Day. Which is good because this is the only time it ever gets done (it should be cleaned at least once a year, right…)
Fun activity – It's Mom's choice! Do I want to go to a movie? The last few years, there is always a new Avengers movie out around that time, so we go to that. Even the teenagers, who would not be caught dead at the movies with their mom any other day of the year. OR maybe I want to play a game. Settlers of Catan anyone? Yes, mom, we would love to play that today. Sometimes I just want to read all afternoon in a hammock (or my reading chair if the weather is not cooperating with my plans…Mother Nature sometimes wants it HER way that day).
Dinner at my favourite restaurant OR something delicious at home that I don't have to prepare or clean up from. I want to just show up at the table, pour my wine, eat, and then go back to my book.
If only EVERYDAY could be like that one! But alas, real life dictates that this shall only be a once per year day of slothfulness and gluttony (maybe twice a year, for my birthday as well, if I am lucky). And I will enjoy every minute of it.
NOW, here is the thing you need to remember…YOUR mom is not me. My ideal Mother's Day might be different than your mom's Mother's Day dream.
Maybe your mom loves a family hike and picnic lunch. Or a day of shopping. Or pampering at a spa. Or a HUGE family gathering to celebrate all the moms, grandmothers, aunts and sisters.
This is where your attentiveness will come in…what does YOUR mom love to do? How does SHE love to be celebrated in your family? How can you spoil her with things and activities that are JUST about her?
If part of spoiling her includes a gift, we have so many great ways to get personal and you can choose something that suits HER style and sends a message of love to her. How about a few suggestions to get you thinking:
(sidenote: I chose to highlight THESE particular 6 gifts because I love them all! Hint, hint to my family…)
We are CERTAIN that whichever gift you choose for your mom, she will LOVE it because you chose it out of love for her. Honestly, that is all a mom can ever ask for. Well, she would also ask that you call her more often. She would love that!
From your Things Engraved Social Team,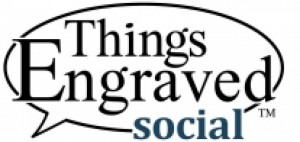 ——————————————————————————————————————————————
For even MORE great gifts for moms, check out all of our Mother's Day gift ideas on our website or find ithem in a store near you.
Save