THIS is an amazing love story!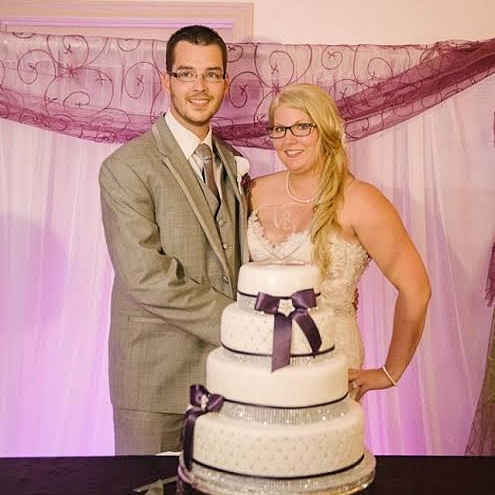 One of our customers shared a photo on our Facebook page of a gorgeous cake topper that had been engraved by one of our in-store experts. It was truly unique! We just HAD to to know more about it, and we contacted the couple to ask  them about the story behind their one of a kind cake topper.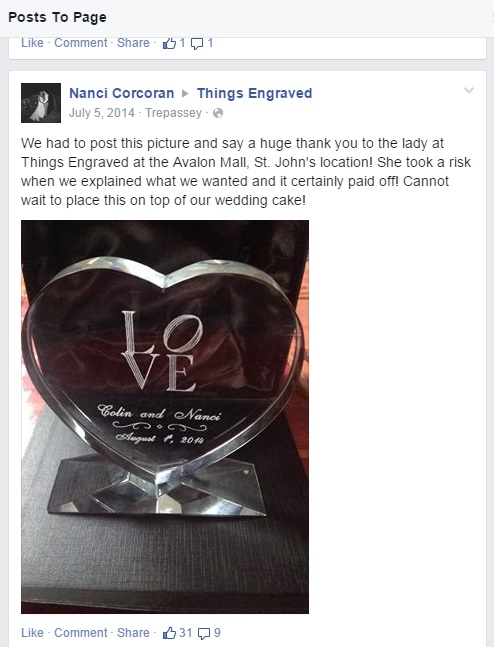 Their story begins in a very small town in Newfoundland, where a young Nanci and Colin, grew up together, and began dating in high school (you know, the kind of life long love story they make movies about!).
Many years later, they planned a dream a trip to New York City (seeing the world together is one of their life goals). On this trip, they were going to see many of the amazing sites in NYC, including Times Square, the Statue of Liberty and the 9/11 Memorial. Also on their list was the Love Sculpture.
Because it was the Memorial Day weekend, Colin told Nanci there was a large parade happening in the city, and that they should head off early in the day to avoid the crowds. He suggested visiting the Love Sculpture first to get some photos without too many people in the background. When they arrived there was someone taking photos already. Colin and Nanci began taking photos as well, including a few selfies (of course, you HAVE to take those). Before Nanci knew what was happening, Colin was down on one knee, proposing to her! The other person taking photos was actually a professional photographer Colin had hired to take photographs of their proposal, and to then whisk them away for engagement portraits in New York City.
Nanci, it seems like you choose a great guy! Creative and romantic!
Their engagement story played a HUGE role in the planning of their wedding, and the theme of the Love Sculpture in NYC was part of the design of the day, including on the invitations, favours and programs. They went in search for a cake topper to match the design, but didn't find anything that would work.
They visited the Things Engraved store in the Avalon Mall in St. John's, Newfoundland and noticed a glass heart shaped plaque with a glass base. They decided it was EXACTLY what they were looking for. When talking with our staff, they broached the idea of spelling the word "love" on this plaque in the same arrangement as the original sculpture. They choose a font as close as possible, and our expert engraver took on the challenge of arranging the letters, including the tilted "O", on this heart shaped plaque.
I think you will agree…it turned out BEAUTIFULLY!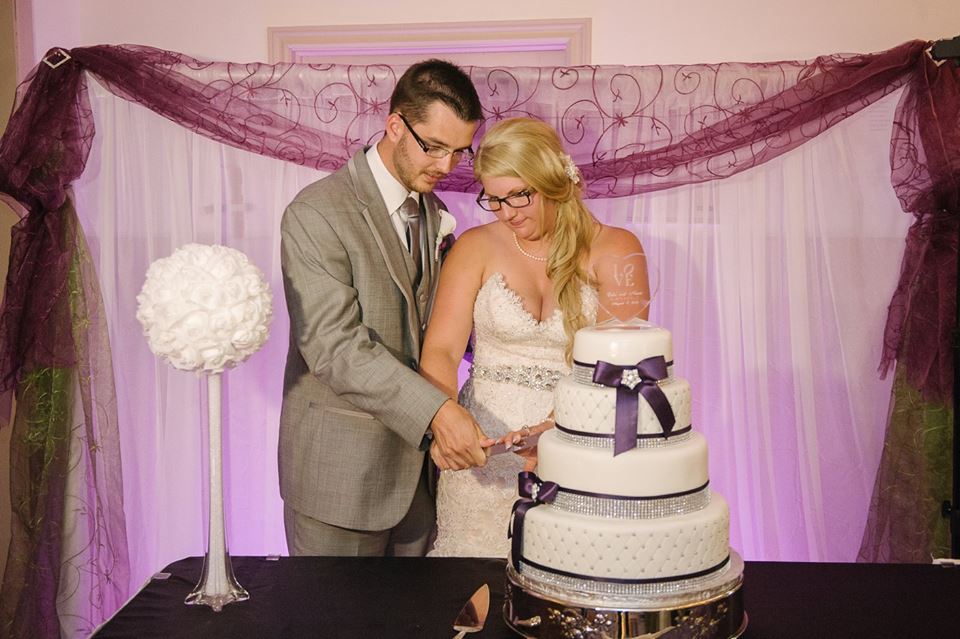 Now that the wedding has passed, the cake topper now sits on a shelf in their family room, to be a constant reminder of their story. And it will become a part of their family heritage in the coming years.
We just LOVE that!
From your Things Engraved Social Team,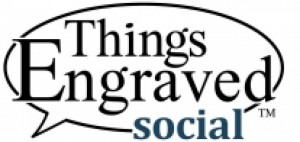 ——————————————————————————————————————————————
If you are looking for something extra special and personal for YOUR wedding, our in-store engraving and gift experts would be very happy to help you chose something perfect!
To purchase, visit our website or find it in a store near you.