Some of the most memorable and life changing relationships are the ones that come from our time at school. Through all of the fun, the challenges, the good AND bad times, your friendships get you to the other side.
This gorgeous set of engraved rose gold bracelets are headed out to 8 friends who have forged their bonds over pizza, coffee, late night study sessions, crying over assignments, and laughter long after reasonable people have gone to sleep (hey, they earned that fun night after all the studying!). In addition to engraving, Birthday Flowers are a great gift – which will be a pleasure to receive on that day.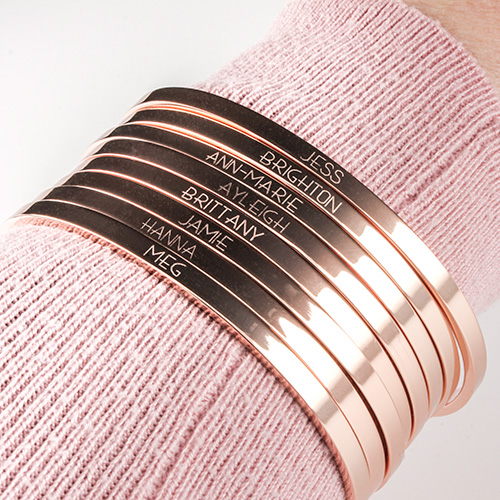 They are now young women, leaving the craziness of their university years behind them, and they will ALWAYS be connected. Sharing this set of engraved bracelets will remind each of them that they belong to this tribe of women. Even if they end up in different cities, countries or time zones, they will remain strengthened by their connection to one another while sharing this set of bangles.
No matter who your best friends are, or where they live, share your love for them by giving them a personalized gift that reminds them that you are there for them, no matter what, across any distance (after all, you can talk to them on Snapchat any time you want!)
Here are just a few more ideas to keep your friendship top of mind, no matter where you all call home.
Create a BFF memory that travels wherever life's journey takes you.
Save
Save
Save
Save
Save
Save
Save
Save
Save
Save
Save
Save
Save
Save
Save
Save