We are so excited about a review of our Antique Ivory Throw by blogger, Natasha from

Purple Monster Coupons

.  Read her product review below, or on her blog

here

.
"Antique Ivory Throw Review" #ThingsEngraved

I had the amazing chance to review an Antique Ivory Throw blanket from Things Engraved.  I have to say that it was a pleasure to work with Tara.  She was very quick to emails and answered all the silly little questions I asked!  *****5 Star Customer Service rating from me!!
This blanket was one of the best made blankets I've had in a VERY long time.  They are not going to fall apart if my girls decide to walk with them around the house (my 3 year old is pretty well known for that).   I LOVE the Ivory colour!!  You don't see every little piece of dirt thats on it (with 2 girls, a cat, and a boyfriend that is just as messy as the rest) it's nice to know that if I decide to leave my blanket out it will take a little more to actually see it.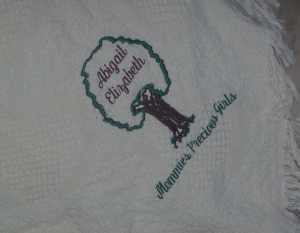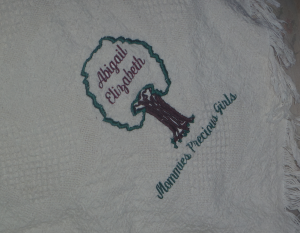 The next thing I have to talk about is the fact that you ACTUALLY get to pick what you want on the blankets.  There are different designs, different colours etc.  One of the blankets I received has Mommy's Precious Girls and under that has a very cute heart design then it has my girls first names (Elizabeth, and Abigail).  The second one I received  has a Family tree with my girls names in it, and below that has Mommies Precious Girls.  How awesome is that??!!??
These blankets are so very soft my girls love to rub them on their cheeks.  All around the outside of the blankets are frilly.  My girls love that part as well.  They rub it on each other's faces to tickle one another!!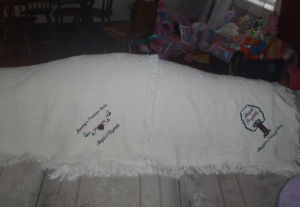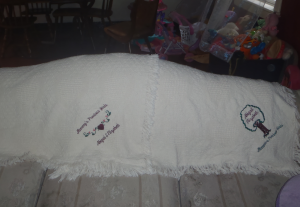 I will have these blankets forever, and what I eventually plan to do with them is put them in my girls hope chests so they can see how much their Mommy loves them.  I love everything to do with these blankets.!!  I suggest for all of you to go and get one for yourself, mother, friend, grandmother, ANYONE would love this blanket!!
Go HERE to check it out!
Want to check out the rest of their website go HERE"
We love Natasha's idea of putting the personalized throw blankets in her daughters' hope chests.  We're sure they will cherish these blankets for years to come.
Who would you give a personalized Throw/Blanket to?