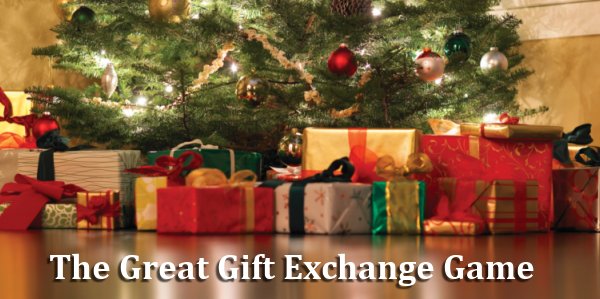 This is the first year we will be trying a "gift exchange game" at our family Christmas.  Usually we swap names and buy for one other person.  However, this year we're going to try something new so I thought I'd better find some rules to ensure the game is fun and played fairly (that's just my A-type personality).
This is the best version of the "gift exchange game" I found (I, of course, modified it to suit my own needs).
The game sounds  fun because each person gets to select a wrapped gift, unwrap it and then possibly lose it to someone else and have to select again.  Being able to select from unwrapped gifts more than once or "steal" a gift someone sounds enjoyable.  It seems this game could be played with friends, families, or even co-workers.  Maybe not the best for children though, as the "gift-stealing" may cause problems.
How it's played
Decide ahead of time how much should be spent on the gifts.  $20 – $30 seems reasonable since each person is buying only one gift.  Any amount will do as long as everyone agrees.  The gifts should be somewhat generic (e.g. don't buy the very specific cassrole dish that your Aunt Linda has had her eye on for months because she may not end up with that gift).  All gifts should be wrapped (and it is suggested that you make yours look extra special).  Get creative, think of a gift that you think people will be eager and happy to get; that they will want to steal from someone else!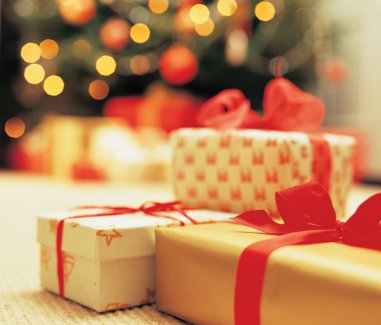 On the day of, put the gifts together under the tree, on a table, or wherever convenient.
Each person selects a number from a basket or bowl to determine the order in which a person gets to select a gift.
Number 1 goes first and gets to select and unwrap a gift.
Everyone oohs and aahs or mentally thinks, "Boy, I'm glad I didn't select that."
Number 2 then selects.  But she may take Number 1's gift or she may select a gift from the pile.  If she takes Number 1's gift, Number 1 gets to select again from the pile.  After she has finished her turn, Number 3 gets to select.  Once again, Number 3 may select any unopened gift or steal an opened gift.
Each time a gift is taken away from someone, that person gets to select again.
She may select any gift except the one that was just taken away from her.  She may however, have the opportunity to select it again later.
Some gifts are occasionally more popular and may get stolen several times.  However, the fourth person to possess it gets to keep it.  No more swiping the gift at this point; the gift is "frozen."  Congratulations to that lucky person!
At the end of the game, Number 1 gets to select again, and take someone else's gift if she wants to, but she doesn't have to. She is actually forcing a trade. The only gifts she can't take are those that are frozen.  This little rule gives Number 1 the chance to also steal a gift since they didn't get that option at the beginning of the game.
And hey, don't be afraid to swipe a gift from someone.  The more take-aways and turn-overs there are, the more fun the game seems to be.   It seems some of the best times have been when a particular gift gets swiped several times. There are always lots of laughs and sometimes gifts get swiped just for the fun of it.
And after the game is over, if you and someone else want to trade gifts, that's O.K. too.
Doesn't that seem like fun?  We're going to try it this year at our family Christmas.  I'll let you know how it goes.
Have you ever played this game?  What variations have you played?  Join us on

Facebook

and share your gift exchange game ideas.