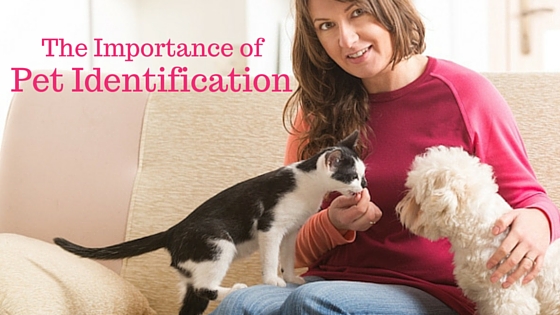 If you're an animal lover, you probably have a pet or a few pets at home. It is very important for your pet to have some form of identification. Whether it be a microchip, a license (these tags are registered with the city of wherever you live and can be linked back to the owner), or a pet tag with your address and phone number. Should they ever get out by accident, they need a way to be identified so they can be returned to their home.
You should have more than one form of identification for your pet, one permanent and one visible. A microchip is good for in case your pet's collar falls off. A pet tag is the easiest way to alert someone of the animals' owner. It should have their name, your address and your phone number(s). A cell phone number is best, so while you are out you won't miss a call.
Key findings of a national lost pet survey, from Huffington Post:
Only 15 percent of pet guardians reported a lost dog or cat in the past five years.
Percentages of lost dogs versus lost cats were nearly identical: 14 percent for dogs and 15 percent for cats.
93 percent of dogs and 75 percent of cats reported lost were returned safely to their homes.
Only 6 percent of dog owners and 2 percent of cat owners found their lost pets at shelters.
15 percent of dogs were found because they were sporting identification tags or microchips.
Tips to help you find your lost pet:
Contact local animal shelters and file a lost pet report, visit the shelters daily or have a family member visit for you.
Search close to your home first.
Walk around your neighbourhood, asking everyone you pass by if they've seen your pet. Make sure they know not to approach or chase your pet, you don't want them to get scared farther away. Have them call you with the location that your pet was last seen. Have them check their garages, backyards and under porches.
Put up waterproof posters around your neighbourhood, make sure they are larger than regular size papers so they stand out.
Advertise through the internet: Facebook, Kijiji, etc. Nowadays, there are many Facebook pages for your specific area, and even lost-pet pages. Post your lost pet in these groups.
Don't give up on your search. Animals that have been lost for months have been reunited with their owners.
Do you have any other tips for finding a lost pet? Tips may vary based on the type of animal that is lost.
At Things Engraved, we carry many different styles of pet tags that can be engraved. If you're looking to purchase one, here are a few to choose from:
The great thing about our pet tags is that the engraving is INCLUDED in the price! To make a purchase, visit our website or find it in a store near you.
From your Things Engraved Social Team,