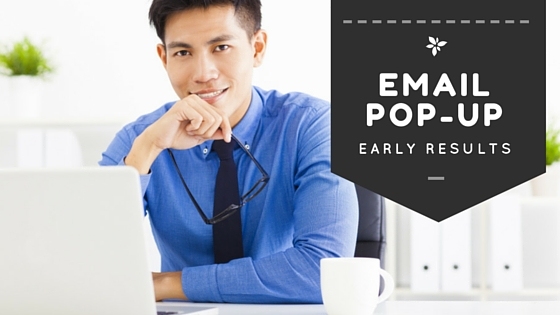 Avoiding the Pop-Up
We have always avoided adding that "subscribe to our email list" pop-up on our website.  Personally I always found those pop-ups annoying and wished it was a practice that websites would just stop doing.  Therefore, I did not endorse the idea of adding an email subscription pop-up to our ecommerce website.  BUT time marches on and now in 2016 website pop-ups are more popular than ever and clearly not going away.  In fact, it's almost expected that when you visit an online retail website (or most websites) you will be presented with a pop-up.  So instead of digging my heels in further I decided we should succumb to the pressure that one of the best ways to grow our email subscriber base would be to add a pop-up when you first our site.
Goal: Growing our List
Our recent decision to stay with MailChimp as our ESP (for now) (read more about that here) included an initiative to use more of the MailChimp features and they have a pop-up builder on their platform.  It looks very easy to use and I liked the fact that it only needed to be coded into the website once and then could be changed and modified through MailChimp's interface.  In the end we decided to go with our own pop-up code (using their API) since we mostly had that coded already.

Before the Pop-Up
Before adding the pop-up our invitation to sign-up for our email list was displayed as a button on the bottom right hand side of our website FOOTER.  Pretty hidden and inconspicuous.  In the 12 months before adding the pop-up to our website our average monthly subscription rate was 137 new email addresses per month (so sad).  Now that's it's a pop-up you're presented with the opportunity to sign-up as soon as you enter the site as a new visitor (once per year).  It's a double opt-in method meaning that people also have to confirm their email address after filling out the initial pop-up form.
After the Pop-Up – Month One
For the first month of having the pop-up on our website (February 2016) our monthly email subscriptions grew by 371% over the last 12-month's average… Wowza!  We obtained 646 new email addresses to our list in the first month so I guess we've proven to ourselves that the pop-up does work.  And who is going to complain about the pop-up when it seems to be standard practice in ecommerce today?  We are happy with the results and excited about future changes to our email marketing strategy.