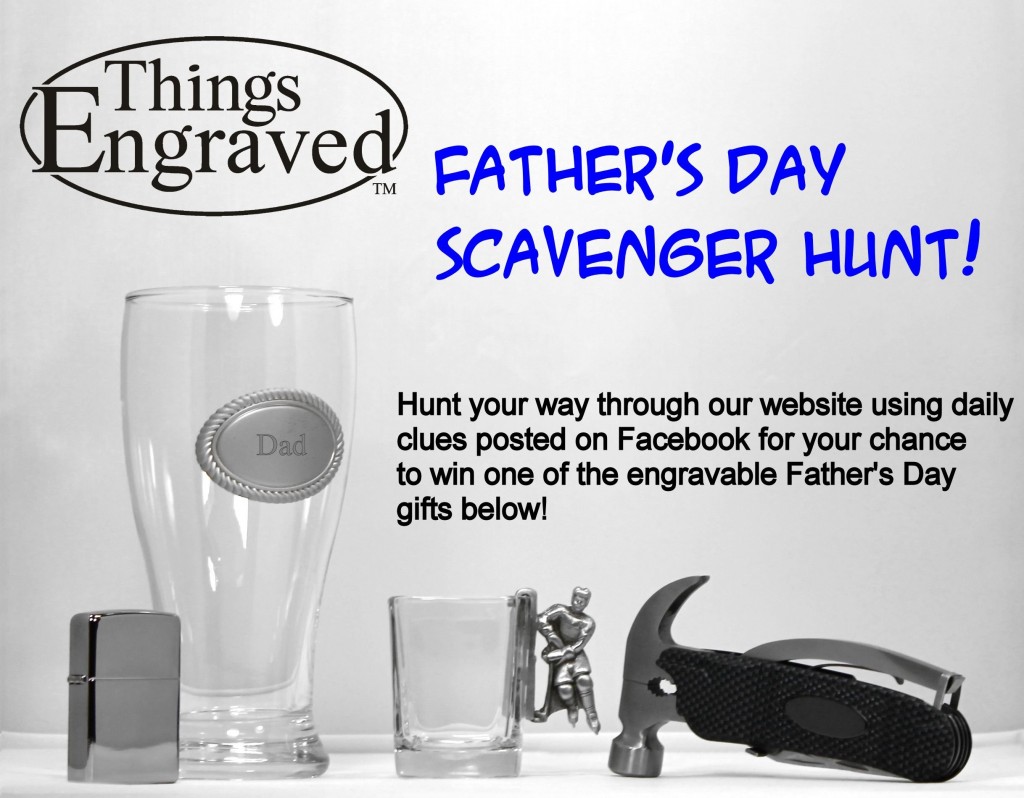 To participate in the Things Engraved Father's Day Scavenger Hunt please enter the contest through Facebook.
Today's Clue:  Share with us your favourite Father's Day gift from Things Engraved! 
June 12th: We gave away 3 of these special tools last week!

June 11th: Is your dad a Calgary Flames fan?  He can show his support for his favourite team with this great beer mug!
June 10th: This gift is picture perfect for the cat loving dad.
June 9th:Does your dad have an iPad?  Help him protect it and personalize it with this great gift!
June 8th: This case is full of essentials for any cigar connoisseur!
June 7th: This lighter is perfect for any Jack Daniels fan!
June 6th: Does your dad love cars?  He'll love waking up with this alarm clock!
June 5th: This lighter is just for Toronto Maple Leaf Fans.
June 4th: We gave away 3 of these special lighters last week to 3 lucky winners!
June 3rd:Sometimes playing cards is more fun with a drink! 
June 2nd: Is your dad a Montreal Canadiens fan?  He can show his support for his favourite team with this beer mug!
June 1st: Help your dad remember to take his vitamins with this small box.
May 31st: This beer glass is perfect for any hockey fan!  Have it engraved with his favourite team!
May 30th: Does your Dad love his iPhone?  Help him protect it with this great gift idea!
May 29th: We gave away 3 of these beer glasses last week to our first 3 winners!
May 28th: Does your Dad rock?  Whether he plays electric or acoustic he'll never lose this guitar pick!
May 27th: Don't forget your Grandpa on Father's Day!  This special gift will remind him of your special times together every time he looks at his keys!
May 26th Clue: Is it a bottle opener or a pocket watch?  It's both!
May 25th Clue: Golf with your dad? With these glasses you can enjoy a drink together, even if you'd rather be golfing.
May 24th Clue: This gift will let your dad show his support for the Toronto Maple Leafs while enjoying his morning coffee. 
May 23rd Clue:This is a great gift for the King of the Grill!
May 22nd Clue: This stemless glass is great for the Dad that enjoys his beverage of choice in an old fashioned glass.
May 21st Clue: Does your Dad need post it notes to remember when Tee Time is?  This desk set may help!

May 20th Clue: Tick Tock lots of watches can fit in this box.
May 19th  Clue: This is a great alternative to a Wallet. Personalize this gift with an engraving; however this gift was made just for Dads.
May 18th Clue: This Father's Day gift is great for the golf lover. The golf ball and golf club may bring your Dad some luck when looking for his keys!
May 17th Clue: Some may confuse this as being an upside down beer bottle.
May 16th Clue: Scottish kilts are not the only thing that look good in Tartan.
Start searching our website to find the answer to today's clue!